2degrees set to giveaway up to 800 YEARS of data
2degrees is bringing back Data Piñata – the online game where users smash their way to free data.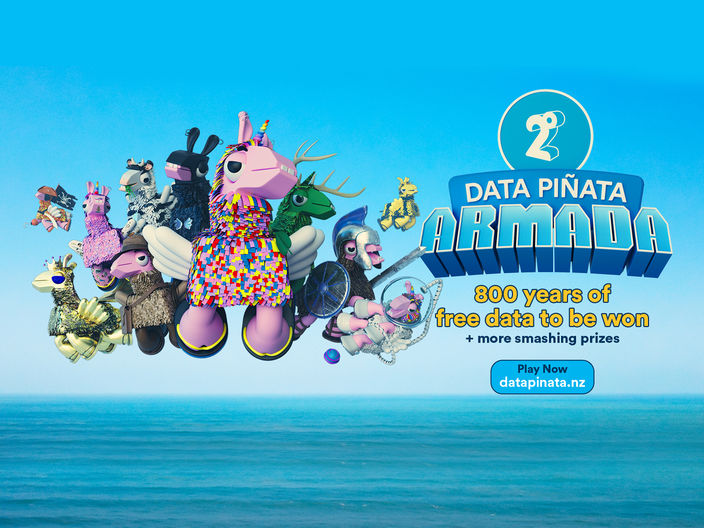 Last year, three million Data Piñatas were whacked, with more than 280,000 people winning over four million hours of data - the equivalent of 200,000 days. 
This year, 2degrees is swinging into Christmas with a bigger and better version of Data Piñata, giving away up to 800 years of data.
All people need to do is visit data.pinata.nz, select a whacker of choice and step into an augmented reality to find and whack the piñata to score lots of data!  In a new twist for 2023, players can also win a range of great Samsung prizes including phones, watches, and headphones.
Dave Pearce, General Manager of Marketing at 2degrees, says "Data Piñata was a smash hit last year so it was a simple decision to bring it back for 2023.  At 2degrees we are challengers and we're constantly looking to improve how we do things, so it was about making it better and bigger".
"This time around we are upping the stakes, giving away more data, adding additional prizes, increasing the duration of the campaign, and elevating the AR experience each participant will receive".
Working alongside creative agency TBWA, media agency OMD, and specialist technology partner Unbound, 2degrees has introduced new piñatas, with Paulie the original 2degrees data pinata joined by a whole Armada of over 20 new piñatas waiting to be whacked!
Another new feature this year is a more tailored gameplay experience, with the AR taking into consideration location, weather, date, and time of day when selecting which piñata that player receives each day.
Only 2degrees customers reap the data rewards when whacking the pinatas, but the game is open for anyone to play. Pearce says, "Anyone that played data pinata last year knows how much fun it is, and we want to give everyone a chance that, even if they're with the other guys.
"People are out and about more over summer, and we know that often means they need more data, so Data Piñata not only gives our customers more data, but it does also so in a fun, gamified way."
Posted on