Delivery
Get free shipping when you purchase online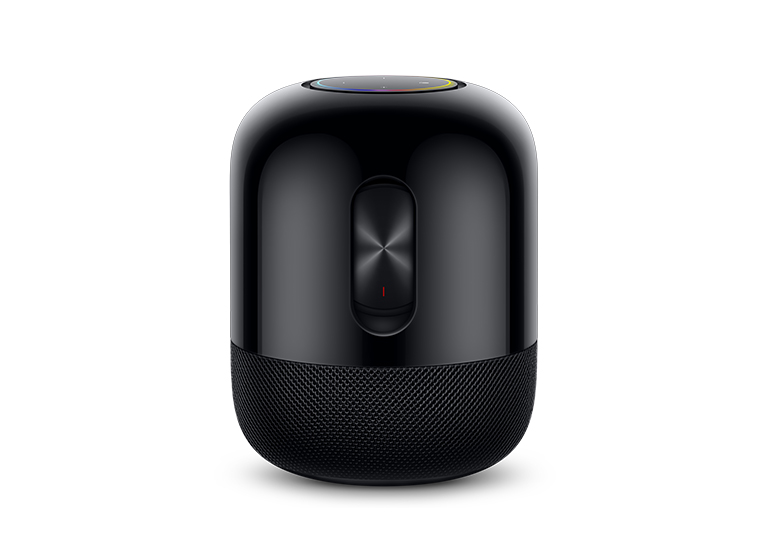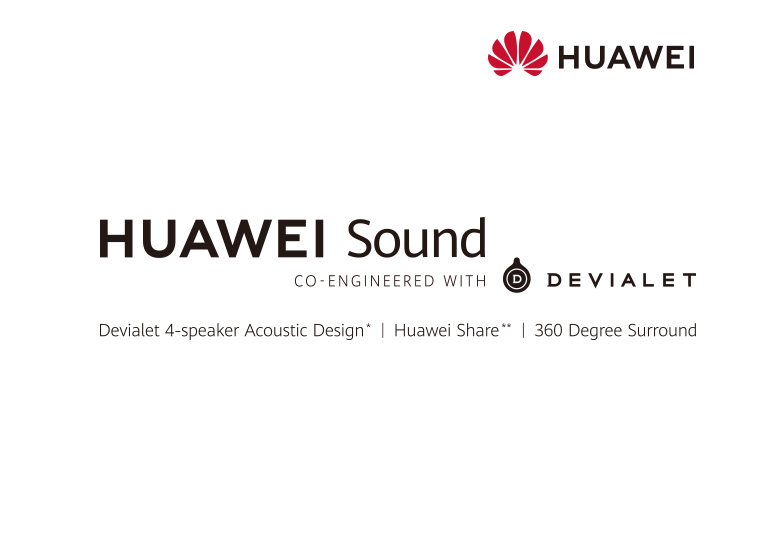 Extraordinary Sound, to Elevate the Everyday
HUAWEI Sound delivers exceptional audio and an immersive listening experience, backed by Devialet's cutting-edge acoustics team, and tailored for the most discerning audiophiles. Rediscover your favourite music as it is played with rich, deep, and full-bodied timbre.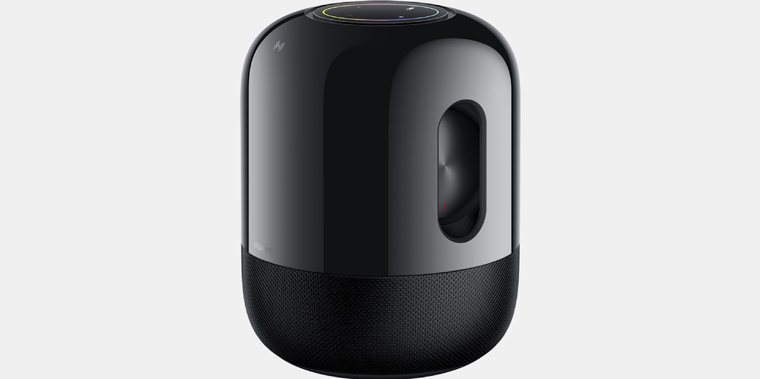 Sound that Moves Your Soul
Thanks to four premium speakers and Devialet's treasure trove of technologies and expertise, HUAWEI Sound restores audio quality to an uncanny degree, resulting in wide soundstage, accurate reproduction, deep bass and bright treble.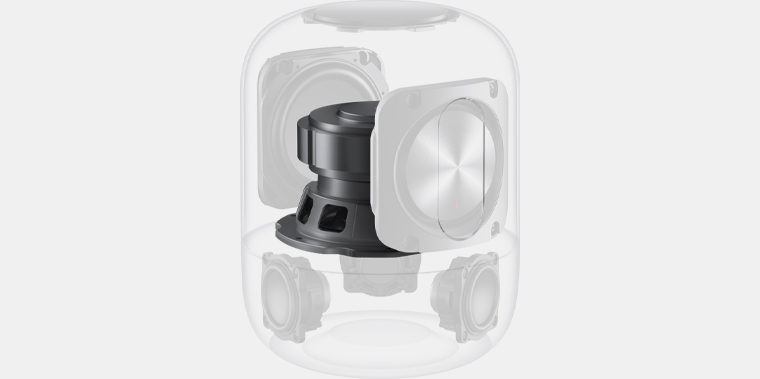 Punchy Bass
HUAWEI Sound generates bass that can be heard and felt. It comes equipped with a sophisticated woofer powered by Devialet's Speaker Active Matching (SAM®) technology, which tailors the sound signal to match the speaker for music that's remarkably more faithful to the original recording.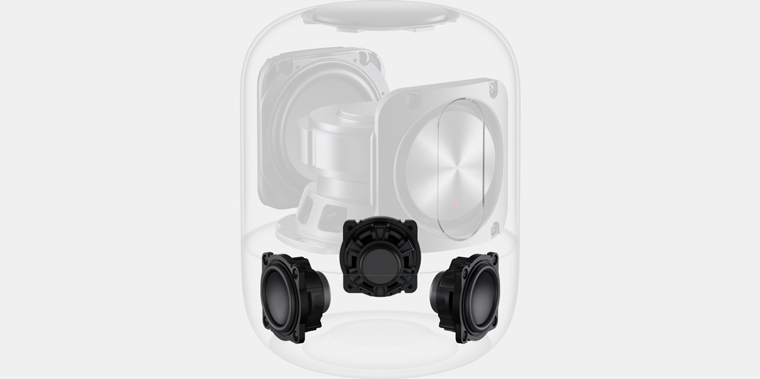 Strikes a Powerful Chord
Three high-end tweeters produce lyrical high notes that pierce the soul, and do full justice to the climax of any song. Devialet SPACE™ technology recreates surround sound experience from a standalone device, so you feel as if you're actually transported to the scene of a live concert.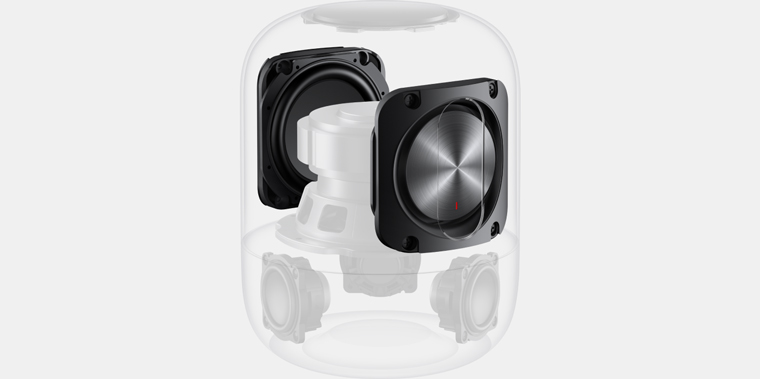 Pitch Perfect
Two SAM® powered passive units, in a "Push-Push" configuration, resonate with the woofer to deliver robust bass tones, while suppressing membrane distortion to produce unfiltered audio. You can rest assured knowing that what you hear will always sound pristine.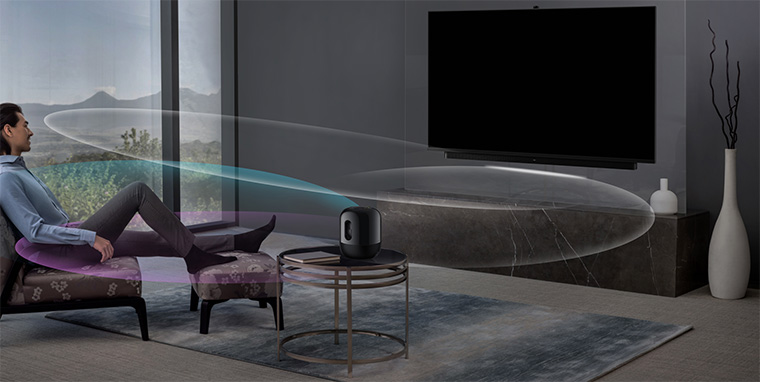 Sound in Space3
HUAWEI Sound offers a spatial audio experience without taking up space in your home. With Devialet's SPACE™ Soundstage, you can enjoy surround sound with just a single HUAWEI Sound speaker, and lose yourself in your music.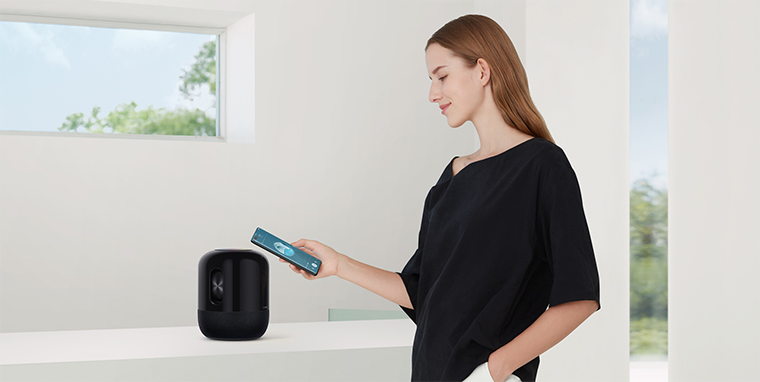 Tap to Share, Touch to Mute2
HUAWEI Sound is designed to be as intuitive as humanly possible. Just tap NFC area with your phone to connect instantly, and place your hand over the surface to pause playback.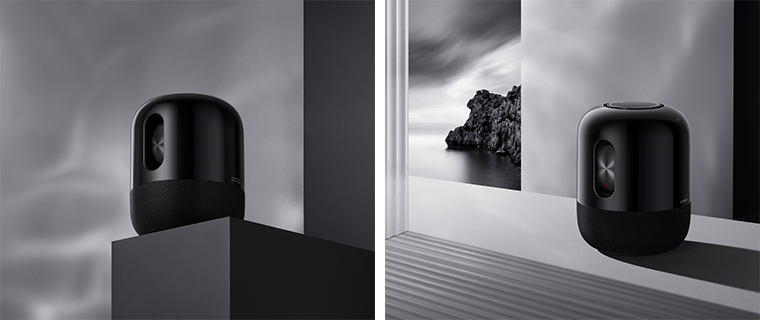 Refined and Stylish
With its sleek build, touch-sensitive buttons and glazed surface, HUAWEI Sound is easy on the eyes, smooth to touch, and pleasing to the ears.
Its unique design provides you with a window into the operation of the subwoofers, allowing you to literally see the surging of the bass, as you hear and sense it.
*HUAWEI Sound is not built with a battery. It needs to be connected to a power supply.
Includes Devialet's PUSH-PUSH Design, SAM® and SPACE™ technologies.
This function is only supported on Android phones that run Android 5.1.1 or later. Turn on NFC and keep your screen on when using this function. It is not currently supported on iOS.
You need to select Devialet SPACE™ Soundstage mode in HUAWEI AI Life app for this feature.
To see the full terms and conditions for our online shop, please visit www.2degrees.nz/terms/onlineshop.
Delivery:
Please note that we can only deliver purchases from the Online Shop to physical addresses in New Zealand, this doesn't include PO Boxes or Private Bags. Once you've submitted your order, we'll email you confirmation and a track and trace number, so that you can follow your delivery. Auckland addresses should receive their order the 'next working day'. For addresses outside of Auckland, delivery of your items could take up to two working days. Unfortunately, we can't guarantee delivery times, this means we can't be liable for any loss, cost or expense caused by delay in delivery. Before couriers are able to hand over your order, they require a signature. Please ensure you have submitted an address where someone is able to sign for you, if you're not there, they may leave a card for you to call them to rearrange delivery. If the item is marked as delivered but somehow you have not received the item, please contact us as soon as possible on 0800 022 022 and we will do our best to lodge an investigation with courier post. Once the device has been delivered to your address, it's yours and you're responsible. For more information on delivery, please read our full terms and conditions.
Returns:
Faulty or incorrect items:
If for any reason the handset or SIM card we send you isn't exactly what you ordered, or turns out to be faulty, please contact us on 0800 022 022 as soon as possible and we'll send you a postage-paid courier bag so you can send the order back to us. Please ensure all of the packaging that came with the device, is returned in the courier bag. If somehow the device we sent you turns out to be faulty as soon as you open it up then we will replace it for you at no cost. Just call us within 7 days of purchasing your device on 0800 022 022 and we will send you a courier bag so you can return it. If the faulty device is an Apple product, please see our full terms and conditions to read more.
Change of mind:
In the instance you have changed your mind, or you wish to cancel a Plan, please see the 'Change your Mind Guarantee' section in the full terms and conditions.
Manufacturer's warranty:
If the device you purchased from us stops working at some point during the applicable manufacturer's warranty period, just call us on 0800 022 022 and we will let you know how you can return the device for repair. Warranty claims are also subject to the other terms and conditions that you'll find in the manufacturer's warranty that you'll get with your handset. If you need to send a mobile device back for repair or replacement, there is the chance you might permanently lose any contacts, ringtones, messages, games or other downloads that you have saved into your handset. 2degrees isn't responsible for any loss of data from your handset in the case of repair or replacement. It's important to note that we're not responsible for the items you send back until they arrive at 2degrees. For full returns terms and conditions, please check our full terms and conditions.